PRO DESIGN LANDSCAPING

Making the most of your landscape design
In recent years, exterior design has become a vital part of a home's identity, with the notion of a comfortable, thoughtfully designed backyard having become a focal point for many. A growing number of people want to essentially live outside instead of staying cooped up indoors! To make the most out of your investment, your outdoor space must offer the same level of well-being and functionality offered by your interior design.
Different Areas for Different Purposes
Your home benefits from having rooms with distinct atmospheres and functions. Why not give your outdoor space the same consideration by splitting it into different areas that satisfy different needs? When planning your layout, don't forget to take advantage of the natural elements that are already at your disposal.
Relaxation area: preferably in a shaded section of the grounds, this area should include comfortable furniture for napping, reading, and chatting. Privacy barriers may be useful to isolate this portion of the yard.
Sunny area: often close to the pool, this area is in the sunniest spot and features loungers for sunbathing. It's also a perfect area to include exotic plants or playground equipment for kids.
Evening area: the outdoor fireplace is the central focus of this area. Consider elements such as atmospheric ambient lighting, wooden chairs, and music. If you're keen on keeping away mosquitoes, the use of natural, paving, or river stone is ideal.
Dining area: also located in the shade, this area is the most robust part of your layout. It must have enough space to include furniture as well as shelter to protect you from mosquitoes, rain, or harsh sunlight. Your vegetable garden can be placed nearby, and this area ought to be close to the entrance leading inside.
Now matter how complex and ambitious your ideas may be, we can make your outdoor space a dream come true!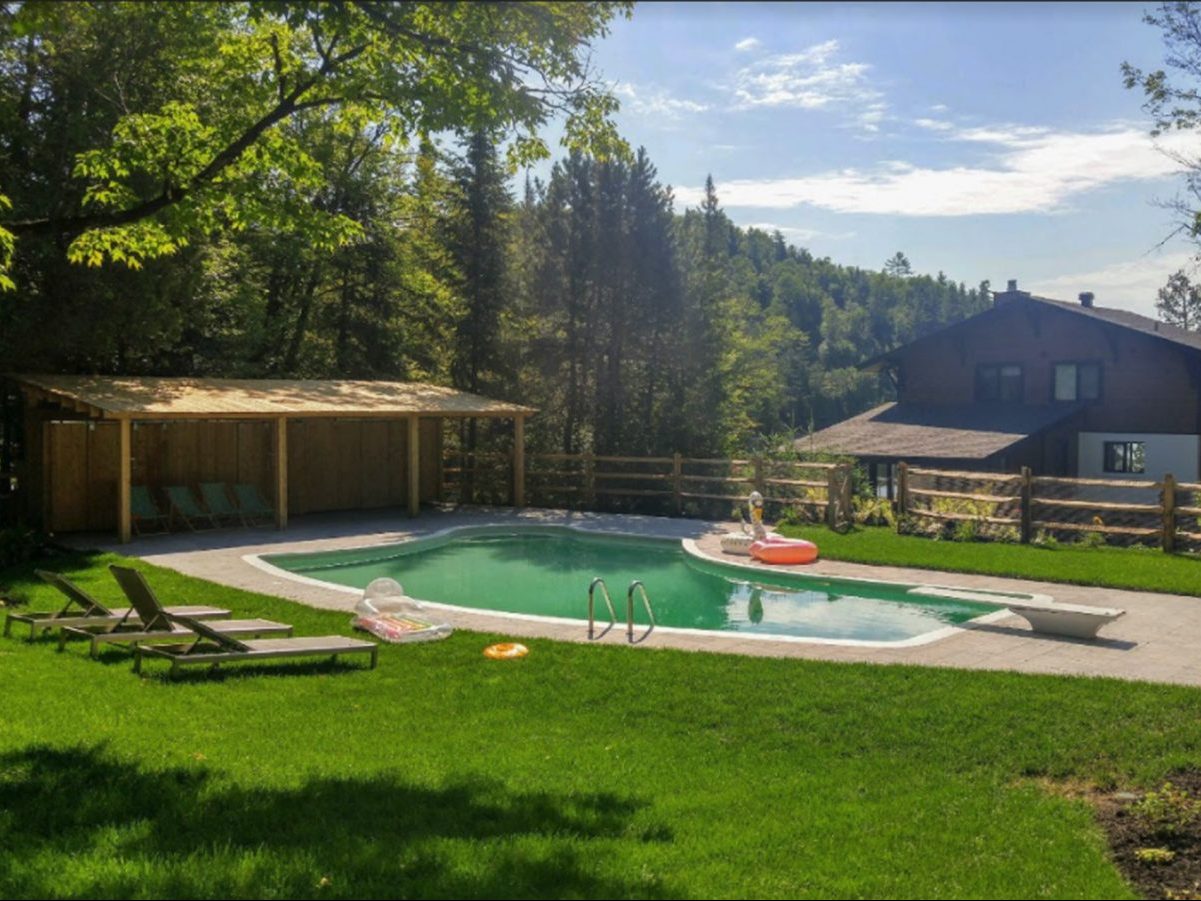 The Outdoor Kitchen
Outdoor kitchens are more popular than ever! If you're interested, it's important to choose the right section of your space, making sure that it's close to the house and easily accessible. In this area, no rainwater should be able to accumulate and no large trees should be nearby in order to avoid the need for frequent maintenance. Next, choose equipment suited to your needs and select products and materials that are utilitarian, weather-resistant, and easy to maintain. As for the design itself, there are no limits: countertops, furniture, integrated pizza oven and smoker, storage, appliances, patio heaters, light fixtures, and so much more– anything is possible!
Don't Forget About Maintenance
Just like indoors, cleaning and maintenance are necessary to ensure the longevity of your outdoor space. However, you can choose equipment and plants that require very little care and attention so that you can enjoy your weekends to the fullest. Unlike wood, both natural stone and concrete are weather-resistant materials that require only a small degree of maintenance. While they're more expensive to install, their extreme durability will help them last for years to come. As for plants, if you don't have a particularly green thumb, we recommend that you opt for perennials, grasses, and small conifers. You should also consider choosing sturdy furniture and adding storage space for rainy days.
Now matter how complex and ambitious your ideas may be, we can make your outdoor space a dream come true!